Sanna-Kaisa Suopohja ja Krista Leppänen 8.11.2019
Responsibility and freedom, joy of working together and continuous learning
The lively vibes at the Arvato offices in Helsinki and Turku indicate brisk and active times at the last quarter of the year. Despite the busy calendars, Ann Schröder, the team-leader in Legal team, and Monica Hagsberg, the newest team-member in legal department, find the time to chat and exchange the latest news at Arvato.
Ann joined Arvato 2,5 years ago after working in a law firm for 16 years. She is responsible for both Finnish and Swedish legal teams and also for the company compliance matters. Currently the legal team consists of four lawyers, working in Sweden and Finland. Some members of the expert team concentrate on litigations and some are focusing on contracts, contract negotiations and compliance matters. Sturdy common ground can be found on each role though - to support the business and work closely with Arvato´s staff. Ann adds that in addition to cross-border co-operation between different countries and teams, an attitude towards customer service is very important at Arvato. Every role at Arvato is seen as a customer-service role: "We want this attitude to show in our day-to-day operation with customers and staff.", says Ann.
Latest news from the Legal-team
Ann´s team is growing during autumn, as Arvato is looking for a Head of Legal to be situated in Helsinki or Turku, and Varberg office in Sweden is also searching for a colleague for the legal team. The newest team member, Monica, joined at Arvato in the beginning of October. She is located in Turku and working as a Legal Counsel and she will report directly to the now sought after Head of Legal in Finland. Monica noticed Arvato´s job announcement in LinkedIn and found an international company where to use her language skills lucrative. Monica has graduated quite recently from Turku University and gained work experience from banking sector in finance and legal assignments. "My head is filled with all the new information but my feelings are up, and I'm looking forward to learn more about the business and other team members.", Monica smiles. Although her journey at Arvato is yet short, she appreciates Arvato´s team of professional colleagues who also happen to be very open and helpful colleagues.
The dynamic and focused work culture can also be seen in how new team members are cared for through proper and sufficient orientation. New joiners will dive into a two-week orientation program, which introduces them to the business and the various stakeholders of the company, but also gets them going in their own work. "We see that understanding our business is crucial from the get-go, so we want to invest time and effort to this", says Ann. The induction program will naturally be complemented by follow-up discussions, but within the induction period we want to cover the key areas and ensure everyone gets a comprehensive picture of the business and their role in the company. No one is left alone, and everyone at Arvato happily shares information, advising and helping each other.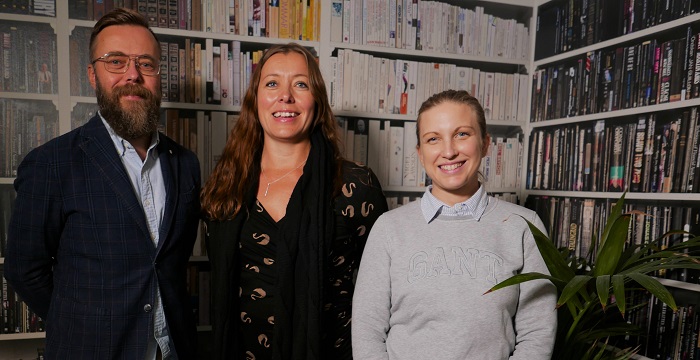 Legal team in Sweden: Christer Johansson, Ann Schröder and Jenny Andersson
What makes you happy at Arvato?
"Arvato is a great place to work" says Ann and then continues that the business area is interesting and the house is full of professional, committed and nice colleagues. On top of all, you learn new things every day and you collaborate across team boundaries. "You can't emphasize the willingness and ability for co-operation enough in our business culture", Ann states, as they are seen as one of the key characteristics of the Arvato people. Everyone is encouraged to act actively and openly, to be bold and share thoughts and ideas in order to ensure innovativeness. "We want to challenge ourselves and each other to think outside of the box", smiles Ann. Arvato's pursue of nurturing a working culture where everyone can be themselves has been noted to reflect directly in employee satisfaction results, which are regularly measured at Arvato.
Could Arvato be a career match for you?
If you seek to be part of an international and service-minded, close-knit team where individual's responsibility and freedom are well respected, take a closer look at the job ad and send us your application. Follow this link towards joy of working together and continuous learning.
Monica's greetings to the future Head of Legal
"Hi! I'm Monica Hagsberg and joined Arvato in the beginning of October. I work as Legal Counsel in Finnish Organization in Turku. Even as a newcomer I can warmly recommend Arvato as a workplace and community to legal professionals interested in the finance field.
As you will be my new supervisor, I am looking forward working closely with you and developing as a professional through your insight, knowledge, experience and clear visions. I fully enjoy working independently but I also appreciate the opportunity to ask for help when needed. I'd be very happy to share ideas and see support and trust bloom in our everyday work. Hope to see you soon!"